Meeting with a dentist can be a daunting experience, and particularly children feel scared and painful about going to the dentist. People choose dentists because they restore their oral health and transform their lives. Many people might have had a painful and truly forgettable dental experience that has stopped them completing the treatment they needed. People should never have a bad experience.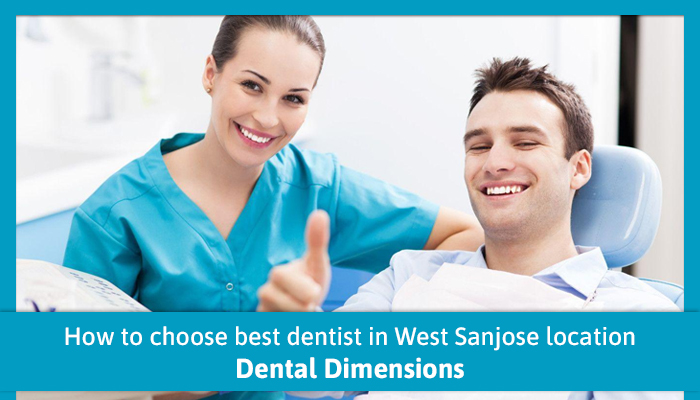 What to look for in a Dentist
Your oral health remains a critical part of your overall health. You have to rethink your standards and expectations for dentists. We can help people choose the best dentist to deliver a positive dental experience and make your visit more productive. Here are six tips to consider when looking for a dentist in West San Jose for you and your family.
Dental Benefits

When choosing a dentist, define your dental goals and choose the treatment which is best for your needs and budget. Regular dental checkups and good oral hygiene is the key to a healthy smile. A dental exam, full set of X-rays, a general cleaning, and other dental procedures will be performed by the dental professional to check for cavities and remove plaque and tartar your teeth.

Get a Referral

Referrals are one of the best ways to choose the right dentist. Ask friends, family, neighbors, or co-workers for their recommendations. Ask your family doctor or local pharmacist. If you're moving, ask your current dentist or your health insurance provider or the local hospital to make a recommendation. Contact your local or state dental society.

Dentist's Credentials & Affiliations

Dentist's educational background, skills, and credentials are important considerations in finding the right dental care provider. Verify the dentist's professional qualification, dental school accreditation, and a valid license to practice. Don't be shy in checking the dentist's credentials before setting your first appointment.

Schedule an Appointment

Meet the dentist and staff with whom you feel comfortable and get the care you deserve. Schedule your consultation time with the dentist before making an appointment.

Pricing

Pricing can be a deterrent for getting proper dental care. People have a hard time finding an affordable dental care service provider. A dental savings plan is the best option to find affordable dental care. Dental practices that offer low-cost health coverage and discount plans are also one of the best ways to find affordable care.

Location & Accessibility

For a dentist, choose the location of the clinic that is near your workplace or home. It is easy to find a dental office with parking spaces when it comes to choosing your clinic location.

Ultimately, you have to do your research in finding the right dentist. Follow the golden standard and make your decision about the right dentist for you and your family.
Schedule your Appointment with us:
Give us a call or schedule your appointment to fix your all dental problems. At Dental Dimensions, we recognize and give you the right dental treatment that make your smile better.