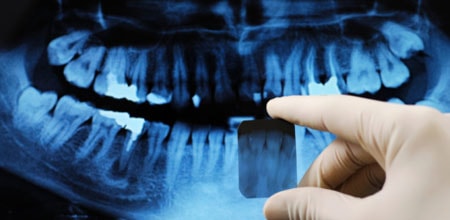 Any dental treatment will require an X-ray, otherwise known as radiographs to diagnose, treat and monitor oral diseases and conditions. Digital radiography uses digital x-ray sensors to replace the photographic X-ray film and produces computer images of gums, teeth and oral structures and conditions.
There are three methods through which digital dental images can be acquired:
Direct method: Images are recorded by placing an electronic sensor in the mouth
T Indirect method: An X-ray film scanner is used to view the traditional dental X-rays.
Semi Indirect method: It combines both the scanner and sensor to convert the dental X-rays to digital film.
Types and Uses of Digital Dental Radiographs
Digital dental X-rays can be taken both inside and outside the mouth. Intraoral X-rays are said to be the most commonly used X-ray that gives great detail and helps to detect cavities, check the developing teeth, monitor teeth and bone. Extraoral X-rays do not provide details as much as the intraoral X-rays, but they are used to detect impacted teeth, monitor growth and development of jaw, identify problems in temporomandibular joints (TMJ) and other facial bones.
Types of Intraoral X-rays:
Bitewing X-rays: The patient will be asked to bite down on the film that will depict details of both upper and lower teeth. It shows a tooth from its top (crown) to the supporting bone. Bitewing X-rays are mostly used to detect the bone density and the decay between teeth. It is also used to determine the fit of crowns or restorations.
Periapical X-rays: It is used to view the root structure and the abnormalities in the surrounding bone structure. Dental conditions such as periodontitis, gum disease, and endodontic lesions can be detected using periapical X-rays.
Types of Extraoral X-rays:
Panoramic X-rays: It includes a machine that runs around the head captures the teeth both in upper and lower jaw in one image. For treatments that include dental implants, impacted wisdom teeth, jaw problems and diagnose cysts and bony tumors.
Multi-slice computed tomography (MCT): This X-ray will depict a particular slice or layer of the mouth, while the rest of the mouth will be blurred.