Considering the fact that you and your dentist will be your oral health partners for a long time, it is essential to choose the right dentist. Here are the top best methods to select the right dentist who will be your long-term oral care partner.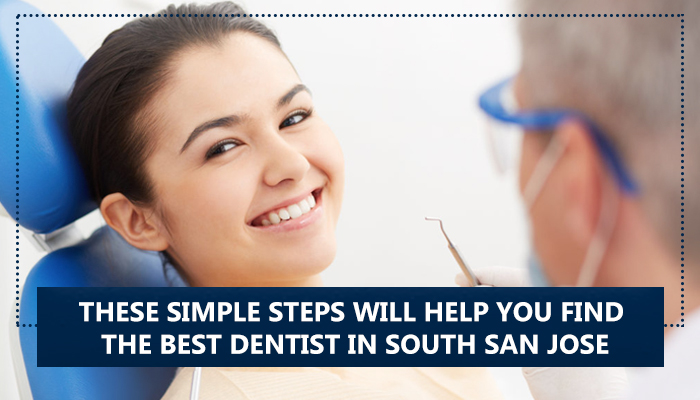 The first step before starting the hunt for the right dentist is to know or list down your needs. Once your needs are registered you can start searching for the best dentist in South San Jose depending on it.
Some people may have specific needs like misaligned teeth, decayed tooth, crooked teeth which all come under orthodontics. So, you might need to search for a dentist who is a specialist in treating mainly orthodontic issues.
Now, diving a bit deeper into what helps in finding the best dental care in South San Jose, the points given below is sure to help.
Ask your close circle
This is one of the easiest ways to conclude on the best dentist in South San Jose. People in your close circle will most probably know what's the best choice. Even if it is not the case in your story, you can feel free about telling them your needs and asking them for the right suggestion.
You can speak to them openly about the procedures followed in their practice and the payment methods. If you think you need alternate payment options, ask your friends if the practice accepts that.
What are the clinic's timings
If you are a desk worker, you spend most of your time in the office. Then, visiting the dental clinic during weekdays will be difficult. If this sounds more like you, then ask if the practice is available after hours.
Some dentists in South San Jose may be available even during the weekends depending on their schedule.
Pay a visit to the dental clinic once
This is a great way to find out more about the clinic and their staff. When you visit the practice, there is a good chance that you will find out how well they maintain the place and how the team welcomes you and much more.
Reviews
When searching about the best dentist in San Jose, make sure to read their reviews online. This reveals their best services, about how they treat the patients and much more.
In case there are no reviews available, you can post on social media platforms that would reach your friends and family. You can expect to see apt reasons to visit the practice.
Get your appointment with us right now!
If you are looking for dental care in South San Jose, give us a call to fix your appointment now. At The Dental Dimensions, we offer a wide range of dental services from which you can choose the right solution.