The American Academy of Pediatric Dentistry recommends that parents bring their children into the dentist for the first time before the age of one. After that, regular dental visits are the cornerstone of keeping a child's teeth healthy throughout life. Learn about the importance of pediatric dentistry and the treatments that are available at The Dental Dimensions in South San Jose, CA.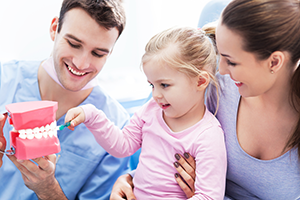 About Pediatric Dentistry
The branch of dentistry that deals specifically with dental care for children is pediatric dentistry. The goal is to ensure that children have healthy teeth and develop good oral care habits from a young age. Here are a few concerns that pediatric dentists have:
– Keeping children cavity-free.
– Helping children get enough fluoride.
– Dealing with bad habits, like thumb-sucking.
– Ensuring that the first teeth erupt in a healthy way.
– Dental injuries in children who play sports.
Why It's Important
Children grow two sets of teeth. When they are growing their baby teeth, parents have to be concerned about issues like baby bottle decay (tooth decay caused by the sugar in milk). When their permanent teeth grow in the main concern is cavities because young children love candy but don't always love brushing. The way that a child's teeth develop plays a role in how they will look and function when they become adults.
Treatments to Discuss with a Pediatric Dentist
When you go to see your child's dentist at The Dental Dimensions in South San Jose, be sure to inquire about these important treatments:
– Dental sealants to prevent cavities.
– Cavity fillings (metal vs tooth-colored).
– Fluoride treatments to strengthen the teeth.
– Dental emergencies for student-athletes.
– Orthodontic treatment (braces) for pre-teens and teens.
Bring Your Child for a Visit
If it has been a while since your child's last dentist visit schedule an appointment with Dr. Deepak Shetty, Dr. Kavita Bhatia or Dr. May Yoneyama at The Dental Dimensions. Call the South San Jose, CA office at (408) 225-6815 today.