Do you want to straighten your smile? Dr. Deepak Shetty and Dr. Kavita Bhatia at The Dental Dimensions in San Jose, CA offers orthodontic treatment with Invisalign for a straighter smile. Here are the top reasons to consider invisalign.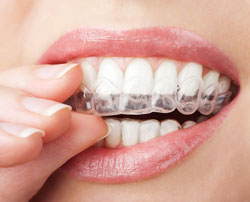 Correct Dental Issues
Invisalign effectively corrects a variety of dental problems, including: an overbite, underbite, crossbite, protruding teeth, gapped teeth, overcrowded teeth and crooked teeth. Invisalign gradually moves your teeth using a series of virtually invisible aligners.
Improve Oral Health
Invisalign will improve your oral health. The removable Invisalign aligners make it easy to floss and brush your teeth to maintain proper oral hygiene. Traditional braces make cleaning teeth difficult because food particles and plaque can adhere to the brackets and teeth.
Avoid Embarrassment
Are you too embarrassed to wear traditional metal braces? Traditional metal braces are the most noticeable type. You can achieve straighten your smile without a mouthful of metal archwires and brackets. The Invisalign system is the virtually invisible way to improve your smile.
Comfortable to Wear
Invisalign aligners are smooth and comfortable to wear. While traditional braces are effective in repositioning the teeth, metal brackets and wires can be uncomfortable to wear, pressing against your teeth and irritating your gums.
If you want to correct your smile with Invisalign, call The Dental Dimensions in San Jose, CA at (408) 225-6815 today to schedule your consultation. If you want the perfect smile, the Invisalign system is the clear path forward.