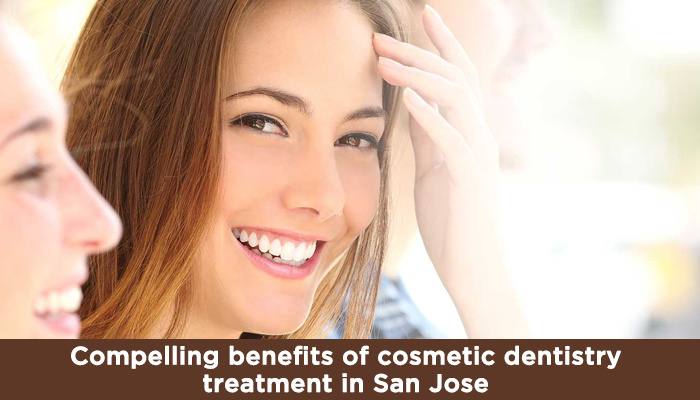 Cosmetic dentistry has many benefits. A cosmetic dental treatment not only gives you back your smile, but it also adds value to your face. There are a number of treatments involved in cosmetic dentistry. This blog will walk you through the benefits and the types of cosmetic dentistry treatment.
Teeth Whitening
Also known as teeth bleaching, this is used to decolorize the teeth from stains. It is one of the most simple and easy ways of cosmetic dentistry and can be done at home or by the cosmetic dentist in San Jose. Some teeth may be over stained and may need extra sittings. However, some teeth can be whitened with ease. It is best to consult your cosmetic dentist in San Jose before deciding anything by yourself.
Invisalign Treatment
Invisalign are meant to straighten the crooked, misaligned, overcrowded teeth and re-align them. A seamless way to get back your smile and the beauty of your face. The Invisalign trays are made of soft flexible plastics that are easy to use. You can wear and remove the Invisalign as recommended by the Invisalign dentists in San Jose.
Cosmetic Dental Crowns
The crowns are what complete the teeth. A tooth does not look complete without a crown. In the case of a dental emergency and a broken crown, it is best to rush to the nearby emergency dentist in San Jose. If the emergencies are not met on time, chances are you might lose a tooth or two.
Benefits of cosmetic dentistry
Enhances your looks
With cosmetic dentistry you can for sure expect your looks to intensify some folds. For instance, getting your misaligned teeth straight with the help of an Invisalign dentist in San Jose will boost your confidence and make you look great with a beautiful smile.
Prevents future dental damage
Some procedures involve covering up minor cracks, setting the gaps right, which avoids further damage to the teeth. The cosmetic dentist in San Jose will help you decide the best treatment to keep your smile wide and bright.
When a small crack is treated with a special material and sealed, the cosmetic dental treatment prevents the gap from becoming bigger and leaving further damage to the teeth.
Strengthen your teeth
For instance, when you get an implant, you almost get back your real teeth but with much more strength. This helps you enjoy your favorite food without any restrictions.
Are you looking for a cosmetic dental treatment in San Jose? You are just a call away from the answer. Ring us up at – (408) 252-3212 for appointments.