Missing teeth make us feel self-conscious to smile or talk about. Along with this tooth loss also causes negative effects on our consuming habits. One of the best tooth-replacement options is dental implants.
Dental implants are artificial tooth roots made up of titanium posts which are surgically placed in the jawbone at the place of missing teeth. These implants appear, feel and function like your natural teeth. Let us know about the different types of implants.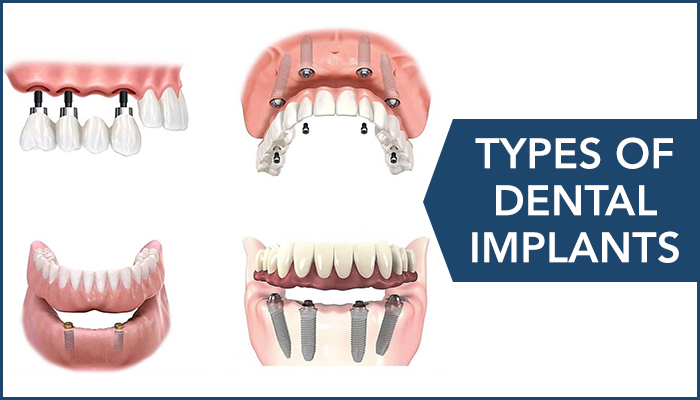 Types of Implants
There are mainly two different kinds of dental implants. They are:
1. Endosteal Dental Implants 
One of the most common types of implants is Endosteal dental implants. They are suitable for most of the patients, but one needs to have a healthy jawbone so that the post gets fused to it. They are in the shape of screws and are placed into the jaw. After the procedure is done, it takes very less time to heal. Once healing is done, the artificial teeth are placed onto the post so that it fits with the surrounding teeth. 
If you are not ok with the idea of getting something placed into your jaw, you can go for the second type of implants given below.
2. Subperiosteal Implants 
This is another kind of dental implant, which is a necessary alternative to endosteal dental implants. They are not placed into the jawbone but on top of the jawbone inside the gums. 
Then a metal frame is set under the gums along with an attachment of post. Healing of gums takes place surrounding the frame to hold it in place. This implant procedure is done if the patient doesn't have sufficient jawbone for the placement of the implant.
If you are looking for a good implant dentist at Dental Dimensions, we provide the best services of dental implants. We have experienced professionals and specialists who make sure you get the best of your smiles. So, book your appointment today and get exceptional treatment.