Severe tooth pain is usually caused by some type of infection inside of the tooth. Root canals allow a dentist to eliminate the infection and rehabilitate the tooth so that it will stay firmly rooted. The American Association of Endodontists estimates that dentists perform over 15 million root canals every year and over 41,000 every day, so it is a very common procedure. Here are a few signs that you may need to talk a dentist at The Dental Dimensions in South San Jose, CA about a root canal.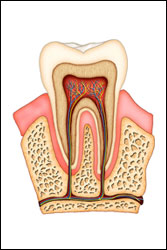 What Is a Root Canal?
A root canal is a dental therapy that provides relief from tooth infections and abscesses. It's a treatment that prevents tooth loss and also protects your general health. Problems with the teeth go beyond just pain—if a serious infection isn't treated and is allowed to progress, it can cause issues with a patient's general health over time. It's important to see your South San Jose dentist at the first sign of a potential problem.
Signs You Need Treatment
The first clear sign that you need treatment for a root canal is severe aching pain in the mouth that doesn't go away, but there are a few other symptoms to be aware of:
Very bad breath that doesn't go away with brushing, mouthwashes or breath mints.
A tooth that feels loose, moveable or painful and very sensitive to the touch.
You find yourself eating on one side of the mouth all of the time.
Redness or inflammation near the site of tooth pain.
Benefits of Root Canals
Root canal therapy is a useful treatment for a number of reasons. Here are a few benefits to keep in mind in advance of your consultation with your South San Jose dentist:
Because you keep the tooth and have it filled to protect it from further damage, it has a better chance of staying rooted for a lifetime.
You can avoid the time and expense of having to get a partial denture, bridge or a dental implant.
After a root canal, a permanent crown is placed which makes the tooth look brand new.
Call for an Evaluation
If you're experiencing symptoms that may call for root canal therapy, a dentist at The Dental Dimensions in South San Jose, CA can help. Call the office at (408) 225-6815 to learn more about root canals and how this treatment can help restore your dental health.