Small gaps can be attractive in some patients, but when a gap is large or tooth-sized, you may want to consider cosmetic help from a dentist. In some cases, a gap can control the way you feel about your teeth and make you feel insecure. Take back your smile with the help of dental implants and the team at The Dental Dimensions in West and South San Jose, CA.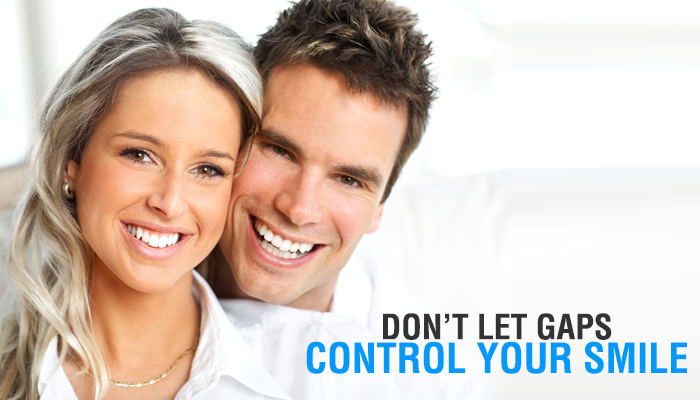 The gaps in your smile that are left by missing teeth can be hard to live with, and not just for aesthetic reasons. You need your teeth for healthy digestion and to protect your gum health. The layers of bone tissue in your jaw will eventually go away after a period of time if the gap isn't filled, so gaps in the smile can contribute to loss of facial structure. While dentures can only superficially fix a gap, dental implants help resolve all of those issues.
Your West and South San Jose dentist can get gaps under control and restore your smile with dental implants. Because implants fill the space beneath the gumline all the way up to the crown, you can chew with confidence—there's no fear of the dental device falling out at an inopportune time. Your bone tissue will remain strong and viable. Best of all, the crown can be designed to look exactly like your other teeth in color, size, and shape.
Dental Implants Are a Reliable, Long-Lasting Solution
You can count on dental implants to fill in your smile gaps for an extended period of time. Once an implant heals through a process called osseointegration, it becomes a permanent part of your mouth. It will continue to support a dental crown for as long as you take care of your gums.
A Happy Smile with Dental Implants
You should feel positive about your smile. If gaps are holding you back, contact Dr. Deepak Shetty, Dr. Kavita Bhatia, and Dr. May Yoneyama of The Dental Dimensions to ask about dental implants. Call (408) 252-3212 today to schedule an appointment at the West San Jose, CA location on 20445 Prospect Road or (408) 225-6815 for the location at 5710 Cahalan Avenue in South San Jose, CA.