The health and cosmetic appearance of our teeth play a key role in how people perceive us, and how confident we ultimately feel when interacting with others in social, professional and personal relationships. Studies have found that the state of their teeth is the most common feature that most people would change if given the chance. But despite the improvements in cosmetic dentistry and technology, millions of Americans are currently living with some degree of tooth loss, which poses a problem to quality of life, as well as oral and general health.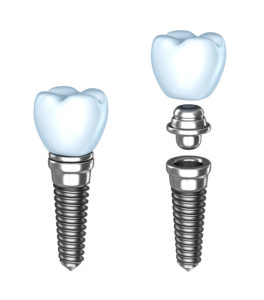 Dental Implants in South San Jose
The dentists at South San Jose, CA-based The Dental Dimensions offer the most advanced tooth replacement solution with dental implants. Unlike other treatments that mainly address the cosmetic aspects of tooth loss, implants also replace the root of a missing tooth, which permanently anchors a cosmetic crown or set of dentures in place, while also preserving the bone tissue in the gums.
Oral bone tissue begins to erode the moment a tooth is lost and can lead to long-term oral and general health problems like bacterial infections and inflammation. Bone loss can also affect the stability of the remaining teeth. An implant is made of a small, biocompatible screw that replaces the root. Once in place, it fuses with the surrounding bone tissue in the jaw. Once it has healed, the cosmetic crown is attached, forming a permanent and cosmetically natural-looking replacement tooth. Implants can replace just a few or an entire set of missing teeth.
Dental implants are a good option for healthy adults with enough bone density in the gums and who can commit to a meticulous oral hygiene routine at home and regular follow-up appointments.
Find a Dentist in South San Jose
Dental implants are the next best thing to a natural tooth. For more information on how implants can restore your smile and improve your oral health, contact the Dental Dimensions by calling (408) 225-6815 to schedule an appointment with a dentist in South San Jose, CA today.
A few of the papers that are used in universities are highly detailed and they will professional essay writing service also utilize particular language.